Packaging, Food Sanitation, and Food Processing Devices
AZ sealer
The sealing bar does not align properly as sealing power is not as strong as before.
It is sometimes found that users hold the sealing lever when they move the machine.
If user continues to hold the machine in the above way, the lever may deform and the sealing surface cannot be properly contacted, resulting in failure to seal the machine.
Please hold the bottom of the machine with both hands when moving the machine.
---
■Product details
Impulse AZ Sealer (AZ-200S/300S, AZ-200W/300W)
https://asahi-packaging.com/genre/sealer/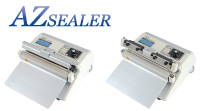 We seek new merchandise for the Japanese market. We would like to help you deliver your products to Japanese customers utilizing our broad sales network in Japan. Contact us by email or the contact form below.
Packaging, Food Sanitation, Food Processing Devices, and Healthcare products

TEL:+81-52-671-5193

TEXTILE INDUSTRY-related

TEL:+81-76-423-8154