Packaging, Food Sanitation, and Food Processing Devices
Impulse Sealer
What is the difference between an impulse sealer and a direct heat sealer?
【Impulse sealer】
The impulse sealer can be used as soon as the power is turned on.
The impulse sealer saves energy by only supplying power for a few seconds while the sealer is heating.
The sealing timer (time adjustment) can be set and adjusted according to the thickness of the bag. The seal timer needs to be readjusted as the heat of the heater section gradually rises with continuous use.
【Direct heat sealer】
The direct heat sealer requires 5 to 10 minutes depending on the temperature setting before it is ready for use.
Only laminated bags can be used for the direct heat sealer.
Direct heat sealer keeps the temperature of the heating element stable, so the seal timer does not need to be re-set even if the bag is used continuously.
■Product details
Impulse AZ Sealer (AZ-200S/300S, AZ-200W/300W)
https://asahi-packaging.com/genre/sealer/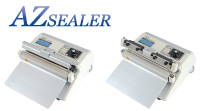 We seek new merchandise for the Japanese market. We would like to help you deliver your products to Japanese customers utilizing our broad sales network in Japan. Contact us by email or the contact form below.
Packaging, Food Sanitation, Food Processing Devices, and Healthcare products

TEL:+81-52-671-5193

TEXTILE INDUSTRY-related

TEL:+81-76-423-8154