Packaging, Food Sanitation, and Food Processing Devices
Vacuum sealer ASV-320D
If a machine breaks down, can it be repaired?
Yes. If you send it to us for repair, we can repair it.
Consumable parts such as heating wire and Teflon tape can be replaced by the user.
Also, the nozzle is detachable for cleaning in case of suction failure or other foreign object clogging.
【Video】
Nozzle maintenance

Maintenance with lukewarm water

---
■Product details
Two-in-one automatic vacuum sealer ASV-320D
https://asahi-packaging.com/products/asv-320d/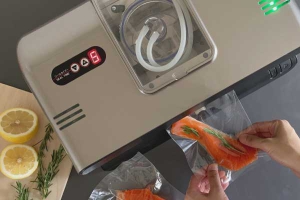 We seek new merchandise for the Japanese market. We would like to help you deliver your products to Japanese customers utilizing our broad sales network in Japan. Contact us by email or the contact form below.
Packaging, Food Sanitation, Food Processing Devices, and Healthcare products

TEL:+81-52-671-5193

TEXTILE INDUSTRY-related

TEL:+81-76-423-8154