Packaging, Food Sanitation, and Food Processing Devices
Electric Fish Scaler
I heard that electric scale removers are difficult to use continuously because the handle gets hot from the heat from the motor, and that they will break down if they are wet and used continuously…
The motor of Electric Fish Scaler AST-150 is built into the main unit, not the handle, so the handle does not get hot.
Even if the handle gets wet, it will not cause the motor failure.
After use, please remove the flexible shaft from the main body, and hang it up to drain water.
This is to prevent a internal wire inside the flexible shaft from rusting and breaking.
---
■Product details
Electric Fish Scaler AST-150
https://asahi-packaging.com/products/tascale/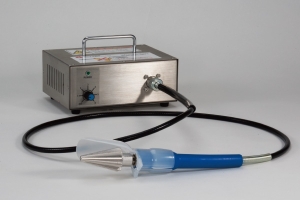 We seek new merchandise for the Japanese market. We would like to help you deliver your products to Japanese customers utilizing our broad sales network in Japan. Contact us by email or the contact form below.
Packaging, Food Sanitation, Food Processing Devices, and Healthcare products

TEL:+81-52-671-5193

TEXTILE INDUSTRY-related

TEL:+81-76-423-8154