ColumnSealers 2022/12/12
The AZ Sealer is a compact but powerful sealer for thick bags such as sweet packages and coffee bags.
We recommend AZ Sealer for packaging sweets and coffee bags.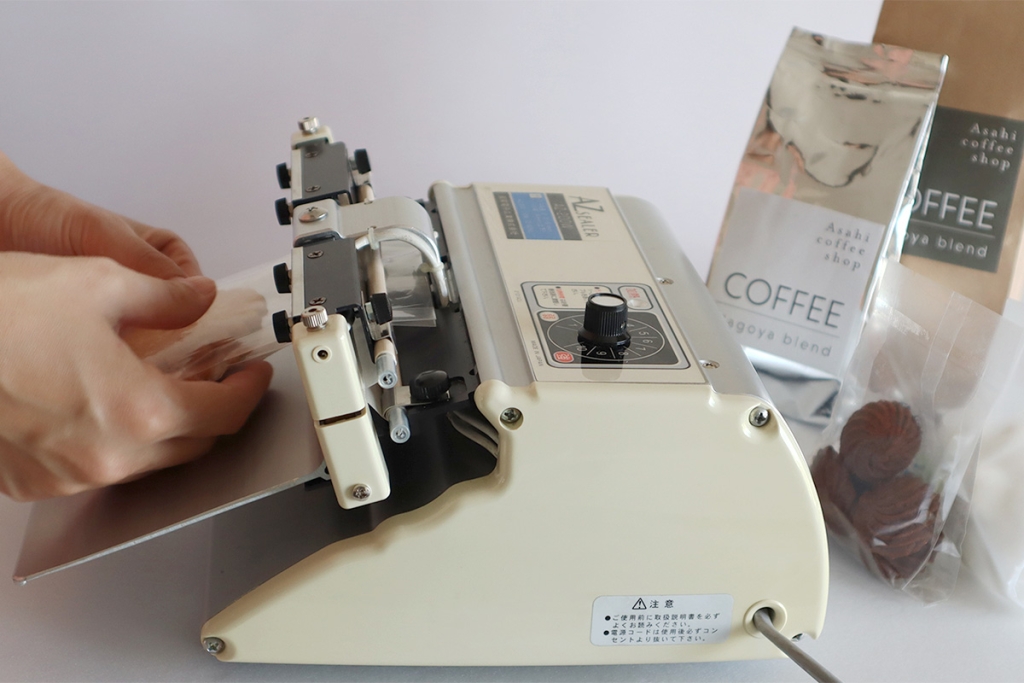 ---
Product details  -Table top impulse sealer AZ sealer
https://asahi-packaging.com/products/azsealer/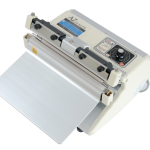 ---
The AZ Sealer is a compact machine and easy to install in a storefront.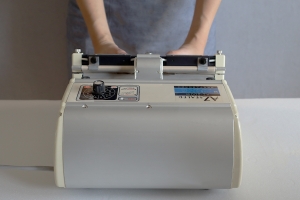 The machine can strongly seal thick bags such as gusseted bags and aluminum bags.
(AZ-200W/300W)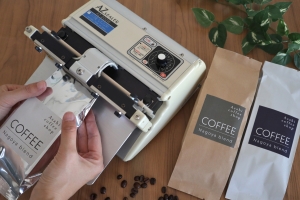 AZ sealer can seal by lightly pressing the table.
It is designed to be easy to use for anyone with less fatigue.
Hold a bag with both hands.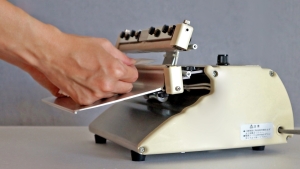 Just push the table down.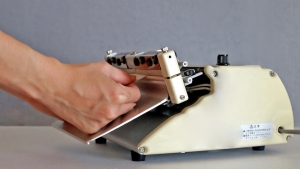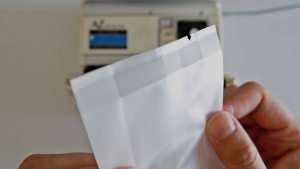 Compared to other tabletop sealers, AZ sealer requires less force and can be operated with both hands, making continuous operation easy.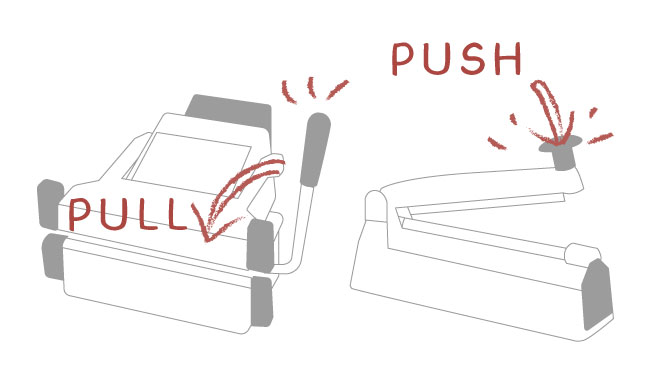 The above types of sealers need to hold the bag with one hand, so you have to operate the sealing bar and lever with only one hand.
It is quite difficult to keep applying force with one hand.
AZ Sealer allows you to hold the bag with both hands for sealing operation.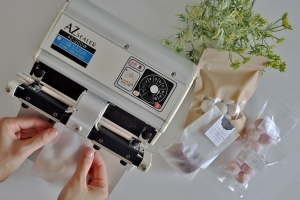 The construction utilizes the principle of leverage, so strong pressure is applied to the sealing surface just by pushing the table with light force.
Video [How to use AZ sealer]

---
Features
Can seal thick bags and gusset bags
Thick bags including gusset bags can be sealed tightly without air leakage.
AZ Sealer is also the best choice for packaging with an oxygen absorber.
Easy to operate with light force for continuous operation
Just press the table down lightly to seal.
The sealing bar is applied with a strong force just by lightly pressing down on the table.
The design based on the principle of leverage makes the machine easy to use for any operator with less fatigue even in continuous operation.
Durable body
The body of the AZ Sealer is made of a durable monocoque structure, which has been applied to aircraft, cars, and housing construction technology.
The body made of a single plate is designed to be strong, impact-resistant, and resistant to distortion.
Another good point is that the body is made of aluminum material, which is rust-resistant.
Compact unit
Powerful sealing performance in a compact tabletop design that saves space.
Customers who have replaced a large foot-operated type are surprised to know that such a small machine exists.
Made in Japan
---
FAQ
Q. What are the advantages of a tabletop sealer?
A. AZ sealers are easy to operate because you can hold the bag with both hands for sealing.
Anyone can seal beautifully and easily.
Q. What is the thickness of the packaging material that the AZ Sealer can seal?
A.



*The thickness is the total of two or more sheets. It changes depending on the material of the film.
We are happy to offer a sealing test. Please contact us for more information.
Q. How can the AZ Sealer seal thick bags?
A. AZ-200W and AZ-300W are top and bottom heating types.
Both the top sealing bar and the bottom sealing bar have a heat element.
The AZ sealer heats the bag on both the upper and lower sealing bars, and at the same time, applies strong pressure to the sealing surface using the principle of leverage to achieve a strong seal.
If you want to seal thick bags, we recommend AZ-200W or AZ-300W.
Please contact us if you have any questions about product selection.
Q. If the machine breaks down, what should I do?
A. Asahi Sangyo's factory in Japan can repair the machine.
We offer repair and maintenance services so that you can use your machine for a long time.
---
Product details  -Table top impulse sealer AZ sealer
https://asahi-packaging.com/products/azsealer/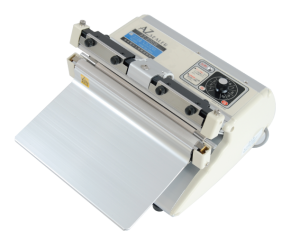 We seek new merchandise for the Japanese market. We would like to help you deliver your products to Japanese customers utilizing our broad sales network in Japan. Contact us by email or the contact form below.
Packaging, Food Sanitation, Food Processing Devices, and Healthcare products

TEL:+81-52-671-5193

TEXTILE INDUSTRY-related

TEL:+81-76-423-8154