Column 2023/10/12
Ultrasonic clamshell sealer and Direct Heat Clamshell Sealer
Sealing the edges of the clamshell prevents theft and reduces the risk of product tampering.
There are two types of clamshell sealers:  Direct Heat Clamshell Sealer and Ultrasonic clamshell sealer.
The differences between the two are described below.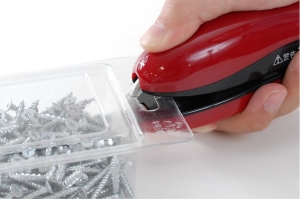 Direct Heat Clamshell Sealer
Direct Heat Clamshell Sealer is a compact machine. A small heating plate at the tip of the machine welds plastics by heat.
Compared to ultrasonic clamshell sealer, the price is reasonable.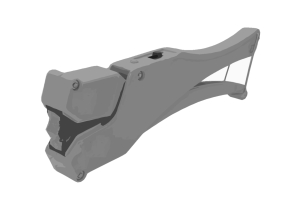 Ultrasonic clamshell sealer
Ultrasonic clamshell sealer requires no preheating and is ready to use as soon as the power is turned on.
Each time the operator clamps the sealer in place, ultrasonic vibrations are generated to weld the plastic by frictional heat. There is no heat plate and the welding is done using the frictional heat of ultrasonic waves, minimizing the risk of burns to the operator during use.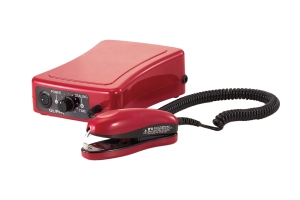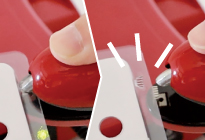 ---
■Features of Ultrasonic point sealer QP-01
– Complies with CE standards
– Made in Japan
– Easy to use
Operation can be performed by simply holding the handpiece, anyone can use it easily.
– Ultrasonic welding can weld even a total thickness of 2 mm.
Ultrasonic welders can weld thicker materials more easily than heat sealers.
Heat sealers weld by applying heat from the surface, making it difficult to weld thicker materials.
The ultrasonic welder applies ultrasonic vibration to the inserted materials and welds them by frictional heating. Therefore, ultrasonic welders can weld thicker materials more easily than heat sealers.
Product details; https://asahi-packaging.com/products/quppa/
**Please contact us for the price.
WhatsApp; +81 80-3582-0737
e-mail; info_e@asahi-sg.co.jp
We seek new merchandise for the Japanese market. We would like to help you deliver your products to Japanese customers utilizing our broad sales network in Japan. Contact us by email or the contact form below.
Packaging, Food Sanitation, Food Processing Devices, and Healthcare products

TEL:+81-52-671-5193

TEXTILE INDUSTRY-related

TEL:+81-76-423-8154