LONG SELLER
Ultrasonic point sealer QUPPA/QP-01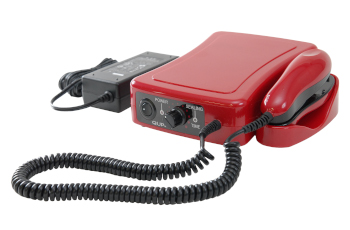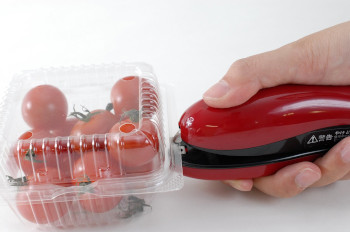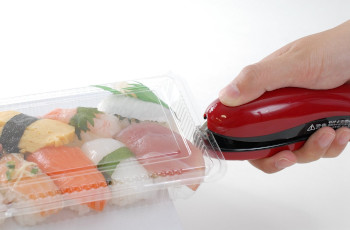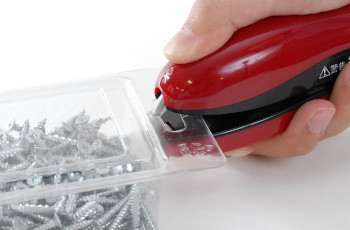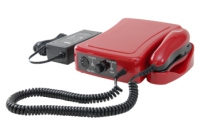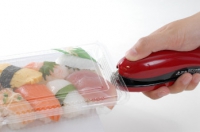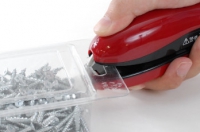 Ultrasonic point sealing for plastic materials without staples
-Ultrasonic clam shell sealer QP-01
The hand-piece generates ultrasonic waves and spot welds by heat in two seconds or less.
Able to weld food packs and fit containers without using a stapler or tape. Consumables such as staples are not used, and therefore, this sealer can prevent foreign matters from entering.

-Ideal for food safety measures
You are able to prevent unwanted materials such as staples, rubber bands, etc., from entering packages sealed by QUPPA.
-Added level of safety
QUPPA can be used to create a type of tamper proof seal easily at low cost, and can also seal any plastic containers that you may already have.With QUPPA, you can be more confident that your snap-on and clam shell packages will be securely and reliably sealed.
-Easy to pack, easy to open
Easily and efficiently seals by inserting packaging in the handset and lightly pressing it together. Packages open easily without the nuisance of tape.
-Presents packaged goods in an attractive way
Films, wrap, staples, rubber bands and cellophane tapes disrupt product appeal. But using QUPPA helps to maintain that appeal with small

- Complies with CE standards -
- Made in Japan -
Features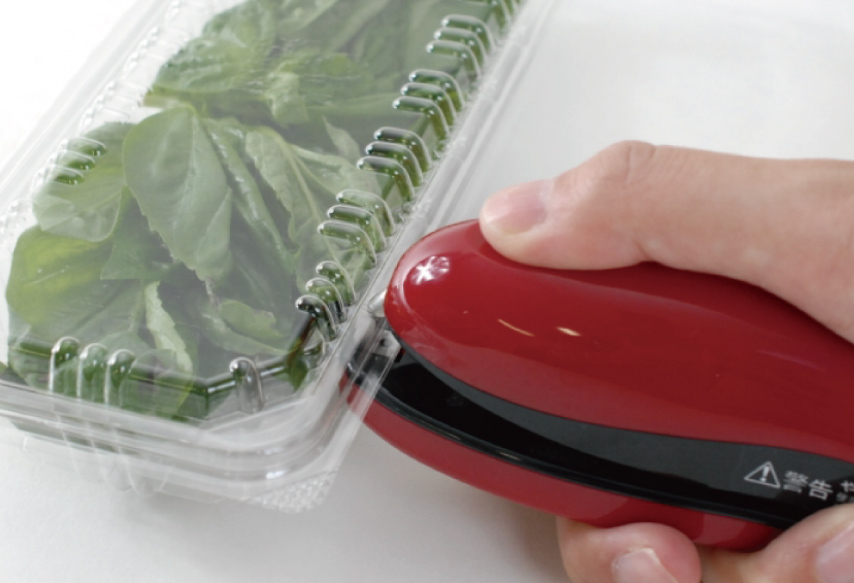 Food safety
Consumables such as needles are not used, and therefore, this sealer can prevent foreign matter from entering and provide attractive packing appearance.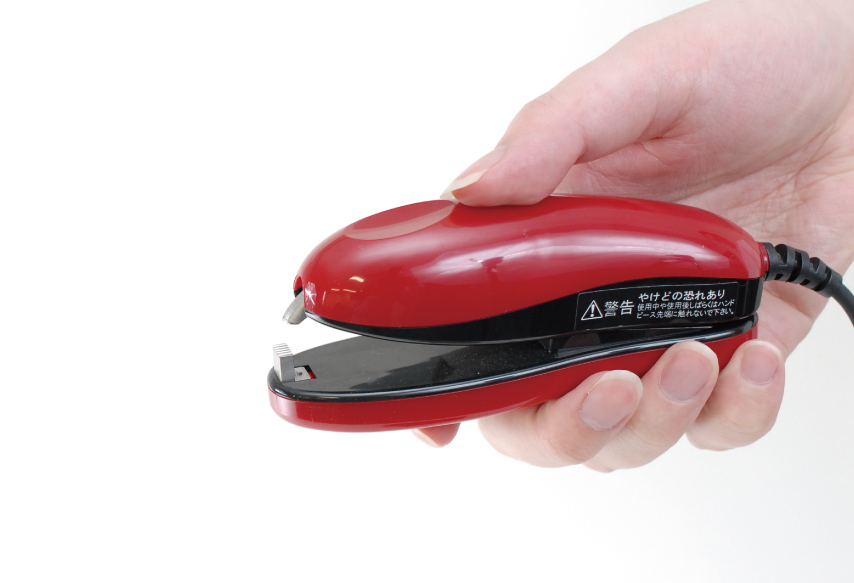 Easy to use
Featuring an ergonomic design that is easy to hold and operate.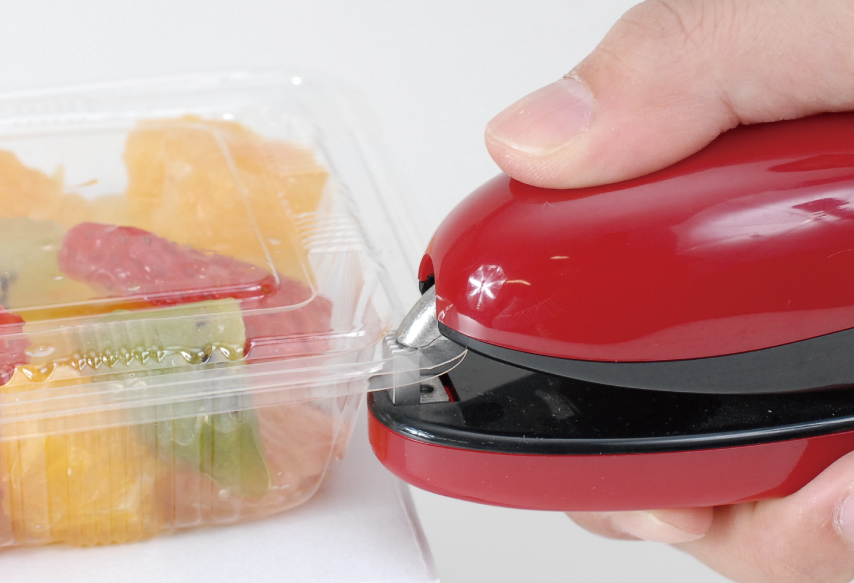 Easy to see contact points
The arc-shaped teeth of the Hand piece allows the user to see the weld points clearly.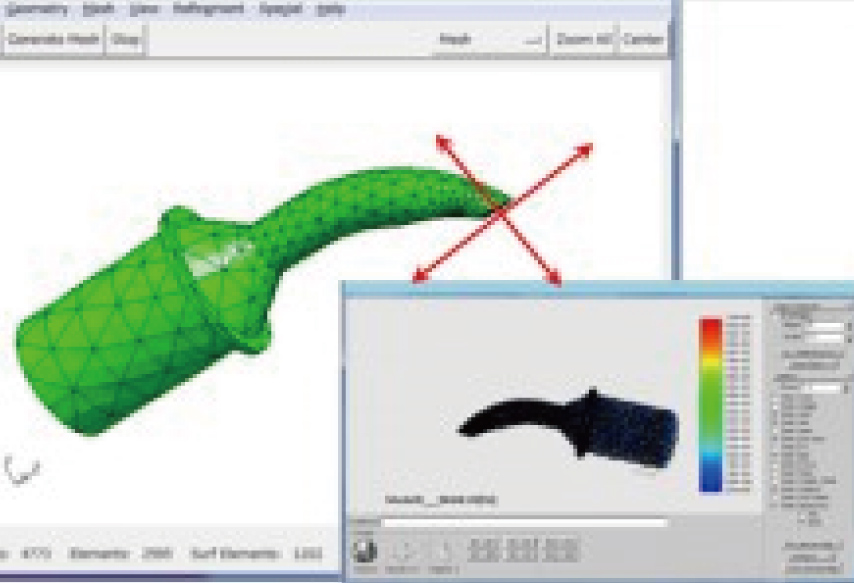 Repeated multi-directional vibration
Repeated multi-directional vibration to achieve strong welding.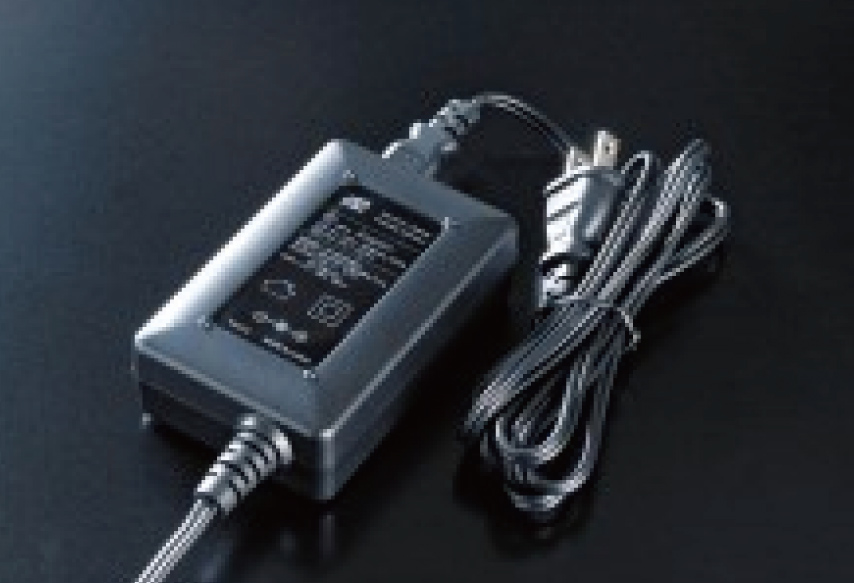 AC adapter
100V~240V(AC50/60Hz )
Easy to use Hand piece
Featuring a convenient storage. The hand piece is built with a magnet inside to effectively prevent it from falling or getting damaged during use.
Specifications
| | |
| --- | --- |
| Product Name | Ultrasonic point sealer QUPPA/QP-01 |
| Product Number | QP-01 |
| Oscillation frequency | 57kHz |
| Max. output | 20W |
| Max. power consumption | 40VA |
| Power Source | 100V~240V AC 50/60Hz |
| Dimensions / unit | W179×D183×H66mm |
| Dimensions / hand piece | W36×D125×H54mm |
Packaging, Food Sanitation, and Food Processing Devices
We seek new merchandise for the Japanese market. We would like to help you deliver your products to Japanese customers utilizing our broad sales network in Japan. Contact us by email or the contact form below.
Packaging, Food Sanitation, Food Processing Devices, and Healthcare products

TEL:+81-52-671-5193

TEXTILE INDUSTRY-related

TEL:+81-76-423-8154