Healthcare Products
Men's wearable urine collector AS-URI
I am worried about the odor coming up through the ventilation holes.
The structure is designed to prevent smell from ascending, and it rarely comes up.
If you are still concerned about the smell, please dispose of urine as soon as possible after urination and wash it with water each time.
---
■Product details
Men's wearable urine collector AS-URI S/M/L size
https://asahi-packaging.com/products/mr-urinar/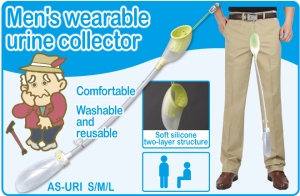 We seek new merchandise for the Japanese market. We would like to help you deliver your products to Japanese customers utilizing our broad sales network in Japan. Contact us by email or the contact form below.
Packaging, Food Sanitation, Food Processing Devices, and Healthcare products

TEL:+81-52-671-5193

TEXTILE INDUSTRY-related

TEL:+81-76-423-8154