Healthcare Products
Men's wearable urine collector AS-URI
What is Men's wearable urine collector AS-URI ?
AS-URI is a urine collector (urine collection device) for men.
It is mainly used on the go, and by putting AS-URI in your pants, you can have a toilet in your pants anytime.
AS-URI helps you to go out with no worries about frequent urination and urine leakage problems.
Originally, the idea for the product development came from a 74-year-old man who actually suffers from frequent urination and urine leakage. He invented this device when he began to stay away from going out only because of his toilet problems, even though his body was in good health.
We took over the 74-year-old man's idea and developed this product over a period of three years with the strong desire to help as many people as possible with the problems of frequent urination and incontinence, which can cause people to stay at home and even lead to dementia.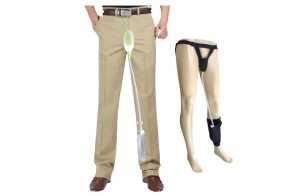 ---
■Product details
Men's wearable urine collector AS-URI S/M/L size
https://asahi-packaging.com/products/mr-urinar/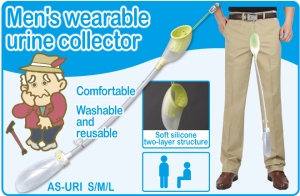 We seek new merchandise for the Japanese market. We would like to help you deliver your products to Japanese customers utilizing our broad sales network in Japan. Contact us by email or the contact form below.
Packaging, Food Sanitation, Food Processing Devices, and Healthcare products

TEL:+81-52-671-5193

TEXTILE INDUSTRY-related

TEL:+81-76-423-8154