ColumnInsect Catchers 2023/06/02
Product outline of adhesive tape insect trap, MPX-2000/MP-2300 series **Product outline 1/7**
MPX-2000/MP-2300 series  **Product outline 1/7**
Catches insects entering from the outside of the building and flying insects generated inside the building without fail.
Can be used to monitor the state of insect generation and planning measures for insect control.
The insect trap can be used to eliminate insects from the space and to prevent foreign matter contamination.
The product is used in locations with high-level hygiene control, such as food plants and pharmaceutical plants.

■Product introduction
Insects are attracted effectively with UV rays around 365 nm, wavelength preferred by insects, then strongly adhesive insect trapping tapes ensure that insects are caught.
MPX-2000 : Made fully from rustproof stainless-steel
Strong trapping capacity suitable for use in the plant and backyard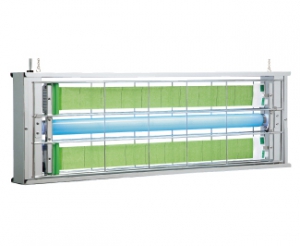 MP-2300: Lightweight with the main body made of plastic
Design that appears natural from the view of people, such as in stores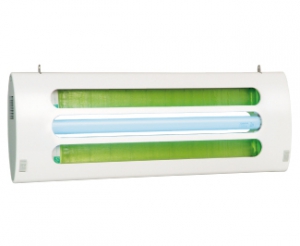 ■Product features
–Product with leading share in Japan : Launched in 1975 as the first adhesive type insect trap in Japan. The product is used by a wide variety of users.
–Adhesive tapes with high trapping capacity : The adhesive agent is manufactured by the optimal compounding of resins to maintain viscosity and adhesion effective for capturing insects.
–Product lineup to maximize the insect trapping effect across the entire space :  Product models can be selected from a diverse lineup available according to the location to be installed, allowing the insect trapping effect to be increased to the maximum.
–Quality control through domestic production : Both the insect trap and the trapping papers are manufactured and have undergone quality control inspections in Japan.
–Odorless, silent, and insecticide-free for safe use : The product does not use drugs and can be introduced safely in food plants and kitchens.
We seek new merchandise for the Japanese market. We would like to help you deliver your products to Japanese customers utilizing our broad sales network in Japan. Contact us by email or the contact form below.
Packaging, Food Sanitation, Food Processing Devices, and Healthcare products

TEL:+81-52-671-5193

TEXTILE INDUSTRY-related

TEL:+81-76-423-8154