environment › Insect Catcher KUROCOP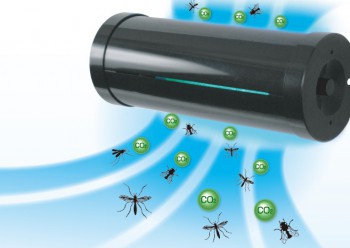 Insect Catcher 『MP-071』
For mosquitoes / Easy- to-use compact body / Safe and powerful adhesive tape / Possible to hide the tape by adjusting covers 

This product (of plastic body) is coated with photocatalyst (titanium dioxide) material.
It shows "decomposing ability" upon exposure to ultraviolet light. 
When a titanium dioxide surface is irradiated by light (ultraviolet light) any organic chemical in contact with the surface will undergo decomposition to CO2 and H2O.
Mosquitoes respond to the generated CO2. 

Lure flying insects by 365nm light, catch by strong special glue tape effectively. Our special insect catching tape holds the dead insect on the tape to maintain the environment clean. The glue tape is made of resin that is the most suitable for catching insects. It is possible to keep its stickiness more than 2 years containing no harmful substances.

Product Specifications
Dimensions: 331×128×114(mm)
Voltage: 100V 50Hz/60Hz, 220V 50Hz/60H
Weight: 650g
Insect luring lamp: 6W(FL-6BL)
Effective area: 40㎡
Insect trapping paper: AS-6 



Powerful adhesive tape

The tape is made of resin that is the most suitable for catching insects, resulting in its double catch rate compared to traditional peel-off insect catching paper.

Floor, Wall and ceiling mounts are available

The unit can be installed in a variety of ways.
e.g. Placing unit horizontally, wall hanging, suspending.

Possible to hide insects on tape by covers

This model is good for space where customers visit since it is possible to adjust the covers to hide  the  insects on adhesive tape.

Photocatalysis effect

Processed with photocatalyst.