environment › UV Knife sterilizer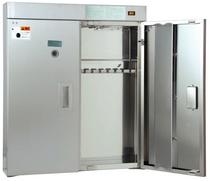 Enhanced bacteria extermination results with photocatalyst and powerful germicidal lamp!
キントール 包丁殺菌庫 キントール 包丁殺菌庫
  The knife rack is built with photocatalyst coated fabric and therefore is capable of eradicating bacteria where the knife handle comes into contact.
  The product is an unprecedented knife disinfection box.  Designed for suspension installation with a compact size, the knife disinfection box is equipped with an UV lamp that is highly effective at bacteria extermination. 
  The product achieves thorough disinfection for knives by covering even knife handles (where bacteria tend to congregate).
  The product also features a safety device that turns off the UV lamp whenever the door is opened for knife retrieval. Built entirely out of stainless steel, the product is designed for easy cleaning and maintenance.
  In recent years, numerous instances of food poisoning have occurred due to consumption of food that has been contaminated with the E.coli serotype O-157 bacterium. In order to prevent the recurrence of food poisoning, the food processing industry has incorporated various standards such as HACCP while awareness for food sanitation has grown steadily.

C-10A

Holds up to 10 knives

C-15A

Holds up to 15 knives