environment › Insect Catcher Interior Type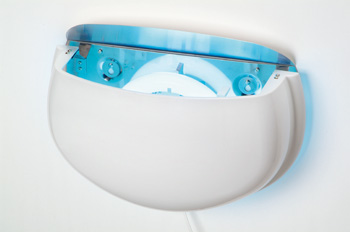 Elegant exterior design that complements interior decorations and furnishing!
MUSHI  POCKET 2 Photocatalyst Insect Catcher

With an appearance that looks just like a decorative lamp, the product is suitable for different venues and premises without compromising the feeling of the atmosphere.

Product name: MUSHI POCKET2 (Photocatalyst Insect Catcher)
Voltage: 100V 50/60Hz
Insect luring lamp: FCL20BL 1 tube(20W)
Mushipon: S-8
Effective area: 30~50㎡
Dimensions (L×W×H): 410×170×255mm
Weight: 1.6kg
ASPAL MUSHIPOLICE

A compact and lightweight insect catcher that is built for versatile application – it can be placed horizontally, wall mounted or suspended as users see fit.
Complete with photocatalyst and negative ion generator, the product not only traps insects but also keeps the air clean and sanitary.


MUSHIPON POCKET 2

MPR-01 (automatic rolling model)

The product is designed with automatic rolling function for the Mushipon for easy periodic replacement.
Each roll of tape is good for 60 days.

MP-600

With an elegant exterior that does not compromise the atmosphere of indoor environments, the product is suitable for places such as lobbies, restaurants and venues that are in plain sight of customers.
Energy-saving accessory

Equipped with a made-in-Japan inverter, the product consumes significantly less power (18%) compared to products that use conventional lamps.

Easy to operate and maintain

With an easily removable case, the product makes the replacement of insect trapping paper easier.

Enhanced luring capabilities

Equipped with a reflective finish inside the product to boost the luminance of insect luring lamp, raising luring strength by as much as 30%.